St Lucia South Africa, KwaZulu Natal
St Lucia Accommodation, Activities, Tours & Safari Packages
South Africa's first World Heritage Site
Awarded as a World Heritage site in 1999 (Unesco), this small but quaint village has fast become a top tourist destination. St Lucia also happens to be the most visited town in Africa to witness our beloved Hippos.
Umlilo Lodge
Lidiko Lodge
At Heritage House
Urban Glamping St Lucia
St Lucia Hilltop Guesthouse
St Lucia Escape
St Lucia Estuary Hippo Boat Tours
Discover, Witness and Observe Hippo's, Nile Crocodiles and Hundreds of bird species on our Hippo & Croc Boat Cruise while in St Lucia. This 2 hour Boat Cruise Safari gets you close up to the residents of the estuary.
St Lucia Activities, Tours & Safaris
St Lucia Safari Activities
An Exceptional Experience Awaits You. Night Drive Safaris, Bush & Beach Safaris, Hippo & Croc Boat Cruises and much more.
Big 6 Bush & Boat Safari
This one day Bush & Boat Safari includes a Big 5 Safari and a Hippo Boat Cruise
Hippo & Croc Boat Cruise, St Lucia
Discover, Hippo's, Nile Crocodiles and hundreds of bird species on a Hippo & Croc Boat Cruise while in St Lucia. Departing Daily, Bookings Essential
NEW: Sunrise Bush & Boat Safari
The only one of it's kind in St Lucia, enjoy a 3 Hr Bush Safari into the iSimangaliso Wetland Park and a 2 Hr Boat Cruise. 
Special Price R685.00 p/p
Heritage Full Day Tour
Discover why this area is a world heritage site, from wetlands to Savannah grasslands to the abundance of wildlife that roam the area. Magnificent scenery and a chance to snorkel in a protected bay.Open Game Drive Safari Vehicle
Heritage Half Day Tour
With an emphasis on snorkeling at Cape Vidal, You can also see some Leopard and other great game viewing while within this magnificent world heritage site.
2 Parks in a Day
Visit both Hluhluwe-Imfolozi Park and the iSimangaliso Wetland Park in a Day. This combination of a Big 5 Park and a World Heritage Site within a Day is Magnificent.
Special: Sunset Drive
Venture into the Eastern Shores of the iSimangaliso Wetland Park and enjoy not only the wonderful scenery but magnificent Wildlife on a super sunset game drive safaris.
Special Price R495.00 p/p
Night Drive Safari
Go insearch of the elusive Leopard, Elephant, Hippo, Buffalo and much more. Hear the bush come alive it's a nocturnal affair. Departing each evening, be picked up at your accommodation while overnighting in St Lucia.Open Game Drive Safari Vehicle.
Turtle Tours
Go in-search of Loggerhead and Leatherback Turtles along the iSimangaliso Wetland Park Beach. Please Note these outings are seasonal and only take place from November to end of February.
Zulu Cultural Tours
Experience firsthand the traditions, customs and much more while out in the village Khula & Dukuduku. Zulu dancing, Bead Work customs and folk stories.  
St Lucia Bicycle Tours & Rentals
Discover St Lucia and the surrounding area by Bicycle, Guided Tours or Rentals are Available. 
Deep Sea Fishing
Charter Fishing Operators List in St Lucia. Departing Daily (Weather Dependent). Please note that fishing permits are required prior to departure. All fishing tackle and gear is supplied by the various operators. 
Horse Riding St Lucia
Beach Rides, Bush Rides and Combo Horse Rides Available. A must do while in St Lucia.
Birding and Guided Walks St Lucia
Looking for a guided walking adventure while in St Lucia, the area is synonymous for its amazing trails in and around St Lucia. Two incredible trails are available one being the Igwalagwala trail and the Iphiva Trail.
Whale Watching St Lucia
St Lucia offers you a opportunity to witness one of the most incredible sightings of Humpback Whales.
Where to Eat in St Lucia
Scrumptious and tasty treats for the full list of Restaurants and Coffee Shops in and around St Lucia. Note that while staying in St Lucia most clients are within walking distance to all shops and restaurants.
Why not join Heritage Tours & Safaris on a Safe and Secure Family Holiday Package. All Safari Packages are conducted inhouse thus offering you absolute peace of mind, the ideal way to discover and explore the area. Join us on a Small Group Family Safari Package.
1 Night Safari Package
4 Night Safari Package
2 Night Safari Package
Big 6 Bush & Boat Safari
This one day Bush & Boat Safari includes a Big 5 Safari and a Hippo Boat Cruise
9 Night Exclusive Safari
Experience the absolute best that KwaZulu Natal has to offer.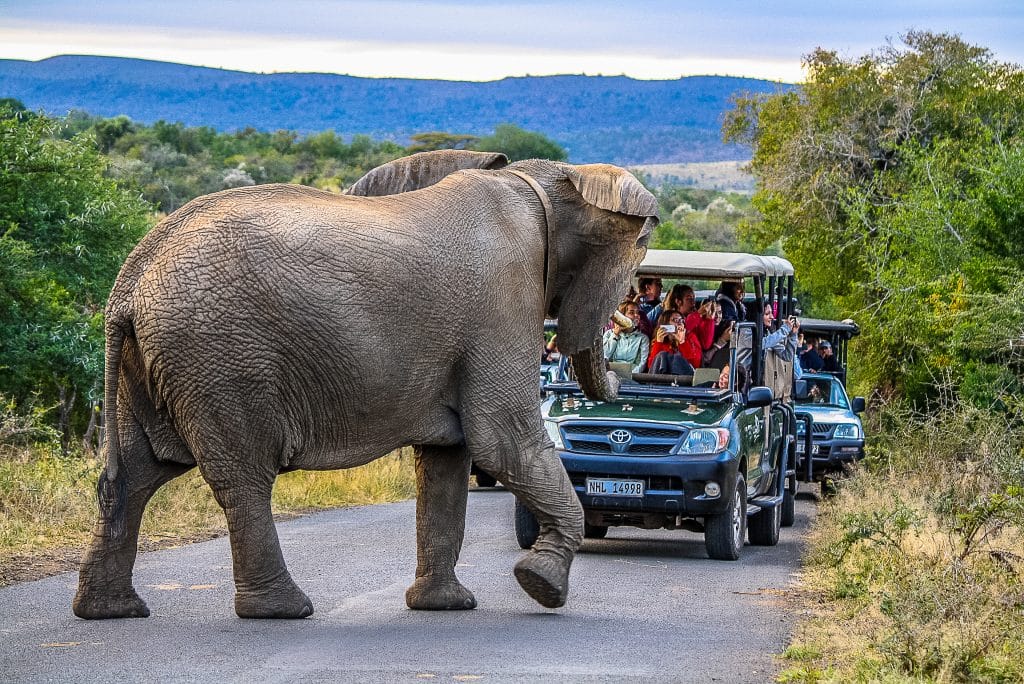 3 Night Safari Package
7 Night Safari Package
Full Day Big 5 Safari
It's a early start 5 am if you are traveling with us from St Lucia, 6 am for all other guests meeting us at the park. Included is all conservation levies, breakfast, lunch and all refreshments.
Half Day Big 5 Safari
Join us as we go insearch of the magnificent African Big 5 in the Hluhluwe-Imfolozi Park. Africa's oldest proclaimed game reserve. Included is all conservation levies and a Bush Breakfast.
Manyoni Private Big 5 Safaris
Enjoy one of the most pristine and incredible private game reserves in Zululand, Manyoni Private Game Reserve. Now available, Big 5 and Walks 
St Lucia South Africa, Home of the Hippo
St Lucia's Magnificent Beauty and Wildlife
1st of all I must say Precious who I didn't get to meet in person was awesome she made our planning experience really easy, so thank you Precious. Everything was absolutely fabulous from our accommodations at Lodge Afrique to all our AMAZING TOURS, we enjoyed ourselves so much that we decided to stay an extra night to relax and... 
By Nedra M
We booked a four day Safari experience with Heritage Day Tours and had a great time, which I would recommend to anyone visiting the area. We were picked up at Durban airport by Vusi, who was a chatty driver and kept us entertained on the ~2.5 hour drive to St Lucia. He dropped us off at our accommodation, Heritage House,...
By Christopher T
St Lucia is situated in the northern part of KwaZulu Natal, South Africa
2.5 Hours North of Durban
St Lucia lies within the iSimangaliso Wetland Park, South Africa's very first World Heritage site 
St Lucia offers numerous activities, tours and safaris. Being a world heritage site you would be amazed at the diversity of wildlife and amazing scenery. For the full list of What to Do while in St Lucia, CLICK HERE
With numerous options, one is spoilt when it comes to a variety of Accommodation Options, for the Full List of St Lucia Accommodation, CLICK HERE
Yes absolutely, their has been no reported case of Malaria for more than 17 years, it is advised that you contact your local pharmacist though.
St Lucia has numerous eateries, all restaurants may be found in the main road of Mckenzie Street. For a complete list of restaurants CLICK HERE
The closest airport to St Lucia would be the Richardsbay airport. Primarily domestic flights one may fly in from other national airports within South Africa. The closest international airport to St Lucia would be the King Shaka Airport Durban. CLICK HERE
Absolutely yes, this has to be one of the most incredible sights that one may experience while in the town of St Lucia. With an estimated 800 Hippos in and around the area Hippos are regularly seen in town in search of grass especially during the evenings however one may be surprised to see them during the day as well. For some more info and pics CLICK HERE.
As of January 2021, the mouth was breached and to date remains open. It is unclear as to how long it will remain open at this stage.